Solaminovit Powder
N00371W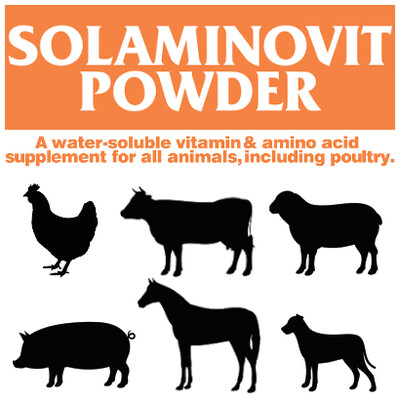 Nutrition
Allfarm Solaminovit Powder
is a premium vitamin and amino acid supplement for poultry, livestock, dogs, rabbits and other fur animals. It can be added directly to feed where a rapid response to treatment is required and is soluble in water.
Applications:
As a preventative for vitamin and amino acid deficiencies.
For support and behavioural improvement of stressed birds.
Support of growth, tissue development, egg and meat production.
To help improve the palatability of feed, due to the amino acids present.
Vitamins A, D3 and E improve growth rate and bone calcification, and help prevent oxidative stress and muscular disorders.
B-group vitamins improve liver metabolism and help prevent anaemia, skin, and neurological problems.
Lipotropic and antisteatosic compounds assist in recovery of liver function after dietary stress or disease.
Download our Information Sheet for Allfarm Solaminovit Powder Here

feed supplements, additives, vitamins, amino acids, poultry, chickens, livestock, cattle, sheep, horses, pigs, birds, goats, alpacas, dogs, rabbits pullets, broilers, broiler breeders, layers, egg-layers