Salt Bush Peck Block
N000010W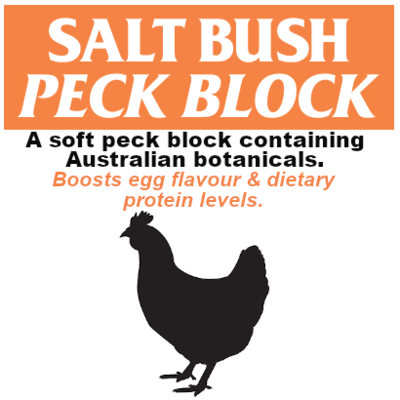 Nutrition
Allfarm Salt Bush Peck Block is a feed supplement containing Australian salt bush (Atriplex nummularia), apple pomace, grains and vitamins. The recipe is designed to support laying birds of all ages, and is especially beneficial to older layers. The formulation promotes egg flavour, colour & shell strength, boosts bird dietary protein levels and promotes gizzard health.

Salt Bush Peck Block comes in a block format that can be convenient to handle and distribute around a pen or shed. The delicious muesli smell encourages birds to consume the ingredients.
Salt Bush Peck Block can be used at any time during lay. The amount you provide can be conveniently controlled and monitored through discrete blocks.
Download our Allfarm Salt Bush Peck Block Product Information Sheet Here
feed mixes, supplements, additives, layers, laying, egg-layers, eggs, poultry, chickens