Probiotic Oat Flakes
N00270W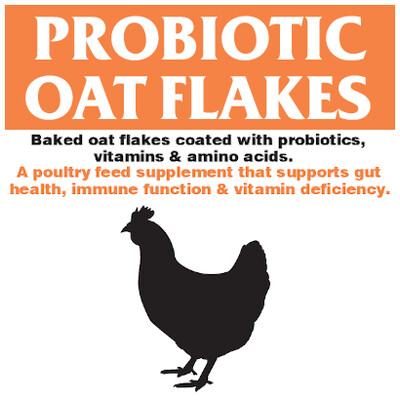 Nutrition
Gut health in a sprinkle!
Allfarm Probiotic Oat Flakes dietary supplement helps support gut flora, gut health, nutrition, and immune function. It is recommended for poultry over approximately four weeks of age, or when birds are large enough to consume rolled oat flakes. It is especially recommended for birds recovering from respiratory, gut and heat conditions, and may assist in revitalising the balance of gut flora after antibiotic therapy or diarrhoea.
The vitamin and amino acid supplements support daily health and provide supplements where gut absorption may have been affected by disease conditions. It contains baked oats coated with vitamins, amino acids and live probiotics. These products have been formulated and tested by veterinarians, and are unique product combinations.
The live bacteria and yeasts in Probiotic Flakes support a healthy gut microbiome, indirectly support immune function, and play a role in maintaining and supporting good digestive health. Active, digestive microflora have important roles which influence nutrient metabolism, immune function and nutrient absorption efficiency. Healthy gut flora are also known to inhibit the establishment of some pathogens. All ingredients in this formula are easily digested and adsorbed.
Birds enjoy the taste of these supplements. Known beneficial probiotic species (Lactobacillus, Bifidobacterium), fermented yeasts, hydrolysed amino acid and vitamins are adhered onto the natural glutens of the oats. This process makes the flakes attractive in smell and taste. Re-establishing a food eating pattern can be of key importance in stimulating appetite during disease recovery, and more importantly where a high level of easily digestible fibre and protein is helpful.
For younger birds and game birds, from day-old we recommend Allfarm Probiotic Fine Meal, which uses an oat flour base.
Download our Allfarm Probiotic Oat Products Information Sheet Here
feed mixes, supplements, additives, probiotics, poultry, chickens, pullets, broilers, broiler breeders, layers, egg-layers