Peck Me Up PLUS Layer Feed Mix
F0020W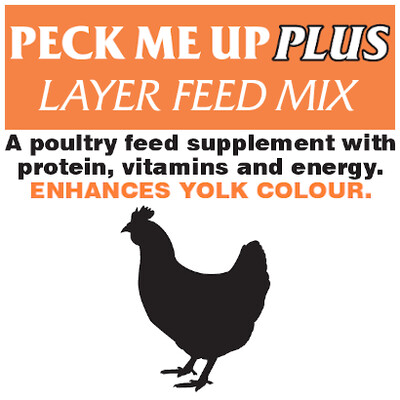 Nutrition
Allfarm Peck Me Up PLUS Layer Feed Mix is a powder feed supplement specially formulated for birds in lay. It is used to supplement standard rations and contains a full range of supplements including vitamins, amino acids, whole protein, energy, and kelp to boost the flavour, with added carophylls to enhance yolk colour.
Peck Me Up PLUS Layer Feed Mix can be used when birds are starting to lay, or are laying poorly. It may be used at double-strength during high-stress times, when extra protein, vitamins and energy are essential for bird maintenance.
For birds outside of lay we recommend Allfarm Peck Me Up (regular product). It contains all the ingredients of Peck Me Up PLUS Layer Feed Mix, except for the carophylls.
Download our Allfarm Peck Me Up Feed Mix Product Information Sheet Here
feed mixes, supplements, additives, layers, laying, egg-layers, eggs, poultry, chickens