Levamisole Concentrate
W00071W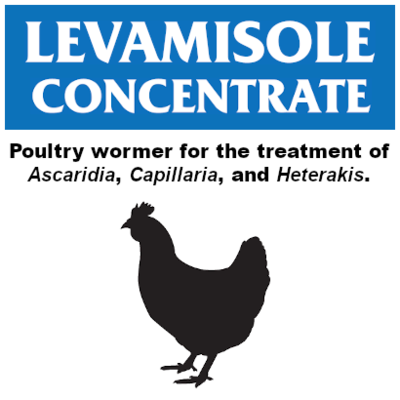 Treatments & Testing
Allfarm Levamisole Concentrate is a broad-spectrum poultry wormer that treats Ascaridia galli, Heterakis gallinarum, and Capillaria obsignata. It comes as a water-soluble powder and should be administered to birds in their drinking water.
APVMA Approval Number: 45117.
When should you use Allfarm Levamisole Concentrate?
What are the symptoms of worm infection?
Poultry worms may cause a wide range of general symptoms, including diarrhoea, depression, decreased appetite, drooping wings, ruffled feathers and lethargy. These symptoms are shared by a number of poultry diseases, including coccidiosis, and faecal testing is required for a definitive diagnosis. Birds infected with Heterakis are often asymptomatic, but they will also act as a carrier for blackhead (Histomoniasis) which can be fatal.
Parasite Diagnostic Services performs combined worm egg and coccidiosis testing of poultry flocks to help you decide if your birds require treatment, or if previous treatment has been effective. See their website for more information, including pricing and contact details: https://www.parasite.com.au/
If your poultry are only infected with Ascaridia then we recommend using Allfarm Piperazine instead. Piperazine only treats Ascaridia worms (normally the most prevalent worm genus), but it has a wider safety margin and no withholding period for meat birds.
Active Ingredient:
Levamisole hydrochloride (995 mg/g), equivalent to Levamisole (850 mg/g).
Download our Allfarm Levamisole Concentrate Information Sheet Here
wormers, ascarids, ascaridia, anthelmintics, antiparasitics, heterakis, capillaria, medications, poultry, chickens, turkeys, broilers, broiler breeders, pullets