Dried Superworms
MWD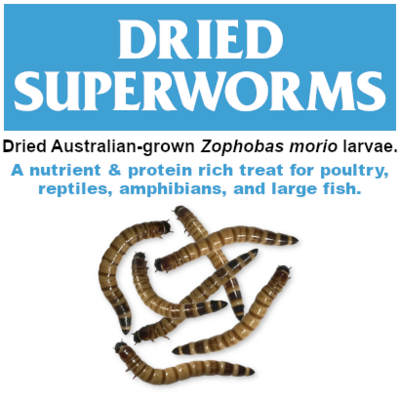 Nutrition
220 gram package size: Please note that there is a limit of 4 packs per customer.
Allfarm Dried Superworms are Australian-grown Zophobas morio larvae, also known as King Worms or Morio Worms. They are a protein- and nutrient-rich treat for a variety of insect-eating birds, reptiles, amphibians and fish. Our Superworms are reared on natural, chemical-free Australia-grown media and are not hormone treated. These worms are larger and have a softer exoskeleton than traditional mealworms, which means they have a higher protein to shell ratio and can be more digestible.
Allfarm Superworms can be fed as a treat to adult pets that can consume larger larvae, including:
Poultry, and other insectivorous birds.
Snakes, lizards, and other reptiles.
Amphibians, including frogs and newts.
Larger insectivorous fish.
Allfarm Dried Superworms are sold in a gusset pack with a mixed size range of worms.
Each pack contains: dried giant mealworms (Zophobas morio) and nothing else. All materials are natural, chemical-free, and grown in Australia.
Download our Allfarm Superworms Information Sheet Here

poultry, chickens, birds, amphibians, reptiles, fish, worms, superworms, super worms, mealworms, meal worms, zophobas morio, zophobas, king worms, morio worms, live, superworm, mealworm, insects, live food
50 grams (0)
100 grams (0)
220 grams (0)