Chicks on Hold
N0031W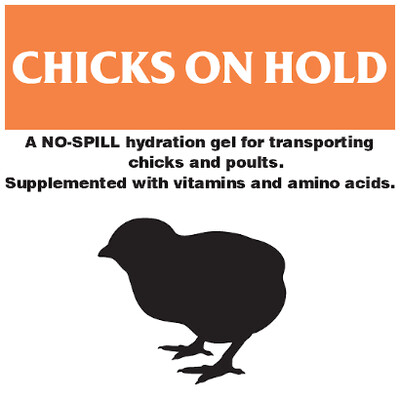 Nutrition
Price :
106.05
AUD
In stock
Have you transported birds, only to find drinking containers flipped over and water spilled everywhere? Here's a simple solution - solid water!

Allfarm Chicks on Hold gel powder is a premium hydration formulation for poultry, for situations where drinking water may be spilled. It reverses water loss, and provides vitamins and hydrolysed proteins to the birds, with a carrier that ensures readily-available energy.
Chicks on Hold is recommended for the transport of chicks and poults from hatcheries to farms. It is supplied as a powder that you mix into a gel just before use. It comes as a bulk pack, designed for up to 9000 birds, and contains colouring to encourage young birds to peck.
For adult birds on show at poultry competitions we recommend Allfarm Chicks on Hold SHOW PACK.

Download our Allfarm Chicks on Hold Product Information Sheet Here
hydration gels, poultry, chickens, turkeys, chicks, poults, pullets