Barrier Butter
N00003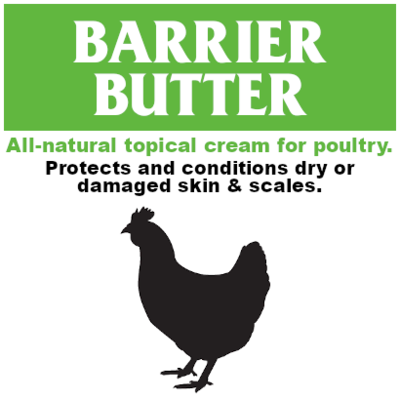 Treatments & Testing
Price :
14.85
AUD
In stock
All-natural Allfarm Barrier Butter protects and conditions dry or damaged skin & scales in poultry. Its blend of coconut oil, beeswax and honey forms a sticky and waxy cream that adheres to skin. This creates a physical barrier against moisture, contamination, and skin parasites. Applied generously it effectively forms a liquid bandage.
Applications:
As a skin and scale conditioner. Applied thinly, Barrier Butter promotes colour, lustre and oil content of skin, wattles, and scales.
For treatment of damaged or inflamed skin. Barrier Butter may be applied to: damaged or scarred wattle edges; skin showing discharge, discomfort, or red irritation due to feather loss; and areas of damaged, enlarged or disfigured leg scales on the feet, toes and pads.
As a wound dressing. Applied generously, Barrier Butter may assist in natural wound healing and prevent or reduce contamination from environmental sources. Enlarged scales are softened, and will be less uncomfortable, aiding in their natural regrowth during healing. Barrier Butter may promote restoration of damaged or chronically-inflamed under-tissue.
For treatment of the damage caused by scaly mites. The natural oils in Barrier Butter penetrate under the scales to ease irritation.
Barrier Butter is not considered to be a single-application product and it should be applied at least every second day, for damaged skin, for as long as the skin is irritated. Or weekly, as a skin conditioner.
The product contains no antibacterial or active ingredient agents and there is no withholding period for eggs or meat. The product relies on sealing and water repellence for effect. Natural oils and waxes are well known for their health support properties.
There is no withholding period for eggs or meat after the use of Barrier Butter in poultry.

Download our Barrier Butter Information Sheet Here
wormers, ascarids, ascaridia, anthelmintics, antiparasitics, heterakis, capillaria, medications, poultry, chickens, turkeys, broilers, broiler breeders, pullets